Posted in
Photography Tricks
on July 11th, 2010 by MadDog
Having been simultaneously inspired, challenged and somewhat chagrined by my post a couple of day ago on the sublimely eccentric and sophisticatedly earthy art of Lindsay Smith, I decided to blow away an entire morning when I should have been doing something else, namely making some money, creating. If that sentence is not complex and grammatically dimwitted enough for you, then hang around for a while and I will probably come up with something even more opaque.
Every shot in this post is a radical modification of an image which has been sitting among tens of thousands for years, some for decades. Every one except this one: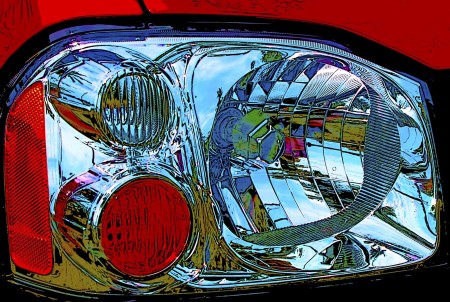 For some inexplicable reason, as I wandered aimlessly around in our front yard this morning, I became mesmerised by the left headlamp of our new Nissan Navara. It is our first new car in nearly twelve years, so we are still somewhat excited about it. It's the cheap kind with wind-up windows and no electronic gee-gaws such as central locking. You don't want that kind of stuff here. If it breaks, it stays broke.
When I got the image up in Photoshop, I began to see its possibilities. How bizarre could I possibly make an ordinary automobile headlamp appear? I began to think of the way it might be portrayed in some stylised automotive catalogue. What I wanted was how it might look on acid or some similarly perception distorting substance. Because it has now become art, I have titled it Headlamp of our new Nissan Navara. I am such a wordsmith.
This one is derived from an old shot and is titled Woman in Canoe on Astrolabe Bay: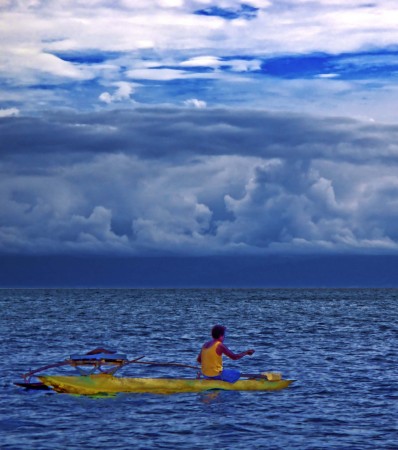 Again, with the clever titles. It get worse. Hang around. Some of these you may need to click to enlarge to get the full impact of my efforts to bamboozle you.
Yeah, now this one is a oldie. I entered this one in an art show a long time ago and actually sold a one-off original print for K200. I think that it was the first image that I ever mane any money from: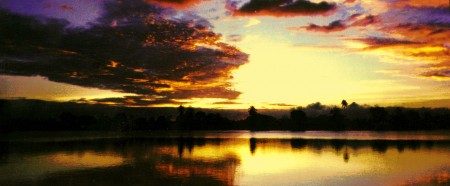 It's title is Sunset Watercolour II. Catchy, eh?
Back in the days of burning rubber, a fine mist of vapourised castor oil in the air, hot tarmac and icy Chablis we called the driver's compartment of a sports car The Cockpit. It was so very, very English. Here is the arted-up cockpit of our 1973 Triumph Spitfire 1500 which sits immaculately restored and carefully wrapped in a garage in Indianapolis, Indiana waiting for someone to make me a reasonable offer for a car which is rapidly approaching the priceless category. Would you like to buy it?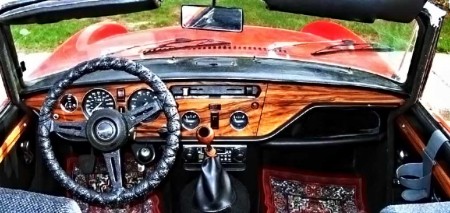 I mean the car, not the picture, which is titled Spitfire Cockpit. I wonder how many disappointing Google hits I'll get on this one.
The dashboard or fascia, as we called it back then, is Brazilian Rosewood, handcrafted over a period of several days by none other than me. Hah, you thought all I can do is take pictures and spew drivel, eh? I got the shot on our first digital camera, a one-point-something megapixel Minolta of some kind. I'm sure that it's moudlering away in a drawer somewhere.
These are our orange lilies, which will be familiar, if not boring, to regular readers. They are decked out here for a night at the disco: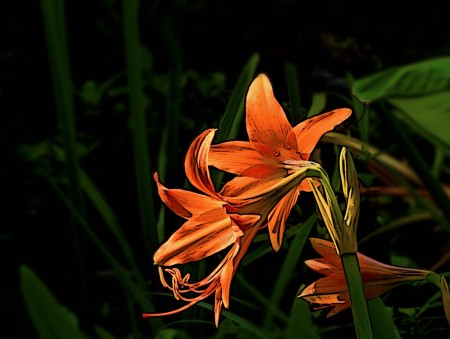 That's the Photoshop Poster Edges filter, if you're interested. It's one of my favourites. The title is Edgy Orange Lilies. Better?
Here is an old shot of the fabulous Australian harmonicist and singer Harper at a performance years ago at The Slippery Noodle in Indianapolis, Indiana: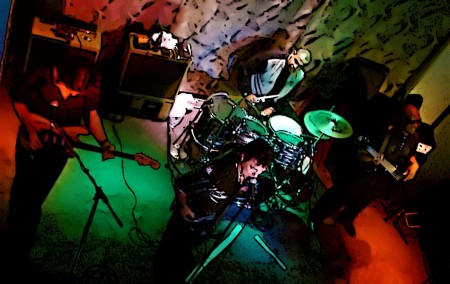 The title is, a little obviously, Harper. I got the shot from a stairway above the back room venue in the area of the building which used to be a brothel. It is the oldest continuously operating tavern in the State of Indiana and now operates one of the best blues clubs it has ever been my pleasure to patronise. I always hit it a couple of times whenever I'm in Indy.  The cover charge is cheap. The food and drink is also blue-collar priced and surprisingly delicious. The amazing thing about the place is that it has three venues for bands in the same building. If you don't like one, you can pick up and move to another. The only problem is that it is sometimes packed. It used to be a mob hangout. There are several spots where there are bullet holes in the walls.
Just to show you how civilised and cultured I am, here is a plate of fruit at a vineyard near Vienna. It's been given the artsy treatment also: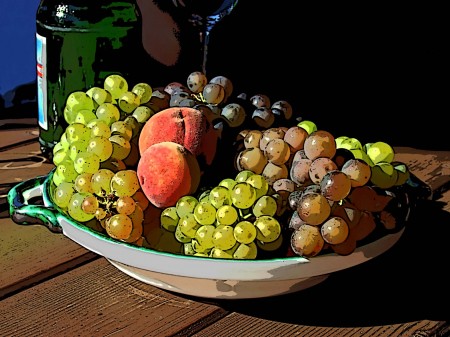 It is delightfully and playfully titled Vienna Vineyard Fruit. I sincerely hope to get back to Vienna someday. It's one of my favourite cities. Summertime is splendid. I don't even want to think about winter there. It would be as bad as Indianapolis, from whence I escaped. The shot above has been "posterised" a bit to give it a more painterly look. Posterisation is simply a fancy term for reducing the available colours in an image.
If none of that is quirky enough for you, then I shall deliver the coup de grâce.
This is my left bicep, at the healthy diameter which it once was at the time I was getting my Dancing Dolphins tattoo, which you see here partially completed: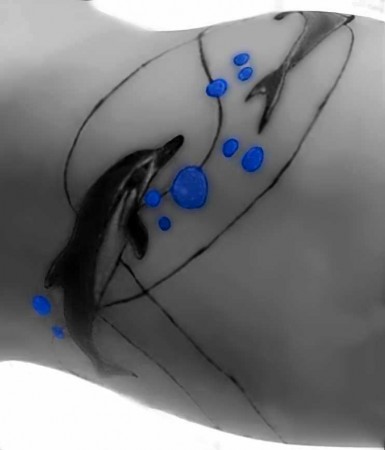 I decided . . . no, I fell upon the idea of doing it in monochrome . . . okay, duochrome.
Okay, that's enough nonsense for one day. I'm getting dizzy.
Tags:
astrolabe bay
,
canoe
,
dancing dolphins
,
dolphin
,
dolphins
,
fake art
,
fruit
,
harper
,
lily
,
nissan navara
,
orange lily
,
spitfire
,
sunset
,
tattoo
,
triumph spitfire
,
vienna
,
vineyard