Posted in
Mixed Nuts
on February 5th, 2009 by MadDog
I fly the flag of my adopted homeland proudly at the top of my daily journal, Madang – Ples Bilong Mi.
As I was pouring over my treasure collection of old Paradise Magazines, I came across this item in Issue 55, February 1986. I think it will be of interest both to locals and those in far away places. Australians will be amused by the presence of then Prime Minister Bob Hawke at the ceremony.
It is the story of how Susan Karike was encouraged by a teacher to design the flag that now represents our nation. (You can click on the images to read the article.)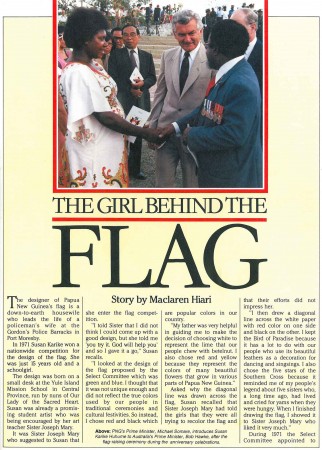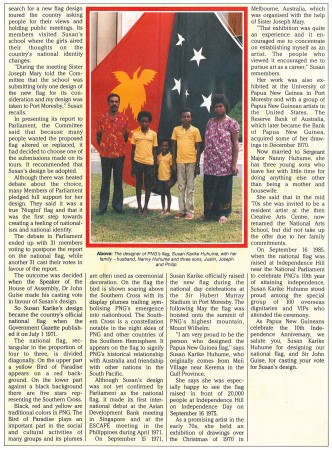 When my son graduated from Butler University in Indianapolis, Indiana in 1988, he represented Papua New Guinea among all the other nationalities of the graduates. Our family felt proud to have the flag of PNG flying at the graduation ceremonies.
I hope you enjoy the story. I also hope that I don't get into trouble for reproducing old Paradise Magazine articles here. I'm going to keep doing it occasionally as I find especially interesting items.
We'll wait and see.
Tags:
bob hawke
,
butler university
,
michael somare
,
papua new guinea flag
,
png flag
,
susan karike