Posted in
Humor
,
Mixed Nuts
on October 30th, 2009 by MadDog
This gigantic purple sunrise greeted me this morning. I've uploaded a 2400 pixel wide image of it. Click to enlarge and do a "save image as". Then print it out big enough to stretch completely around your head with a little overlap. Then laminate it. (the lamination can be skipped if you are not worried about durability) Now have someone help you to wrap it around your head and tape the ends together in the back. You will have an amusing hat:

If there is anybody out there crazy enough to actually do this, please, oh please send us a picture. I promise to post it on Madang – Ples Bilong Mi. Here's your big chance to become famous. All of your friends will envy you.
The meat and potatoes of today's post is, of course, the brash move by one of our much-beloved local newspapers* to relocate Washington DC to Colombia**. If you don't believe me, read this:

In case you are too lazy to read all of it, I'll quote the salient passage:
Mr. Taylor, who is a native of the district of Colombia in South America, said during a press conference yesterday at the US Embassy in Port Moresby that he was delighted to be in PNG.
Well, no doubt Mr. Taylor is delighted to be in PNG (who wouldn't be?) However the rest of it raises a couple of amusing queries in my mind. Has the capital of the U. S. of A. actually been removed to Colombia in South America? Or, though more likely, but still highly doubtful, is Mr. Taylor a native of some place in South America called the District of Colombia?
Or, my mischievous mind suggests, is our newspaper simply getting it wrong. I'd hate to think that, since our local newspapers, bless their hearts, have always followed the journalistic profession's local motto, "All the news that fit to smoke." (if you're not a local, you probably won't get that – never mind)
Here's  another morning's sunrise:

And yet another shot of the now famous orange lilies: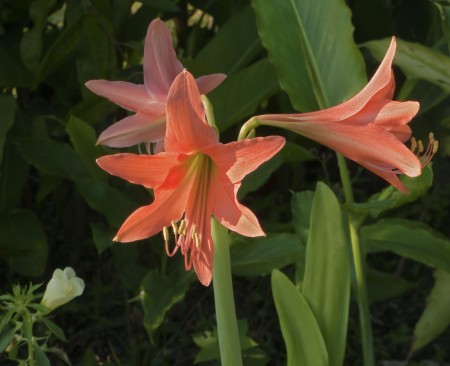 Last Sunday, when we came back from Blueblood, I got this shot of a ship tied up at the wharf across from our house: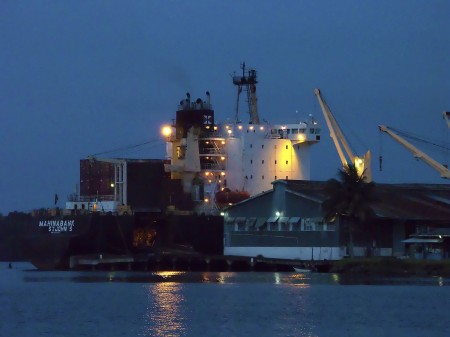 It's not terribly exciting. So, I exercised my favourite Photoshop artistic filter – Watercolour – and produced this mess: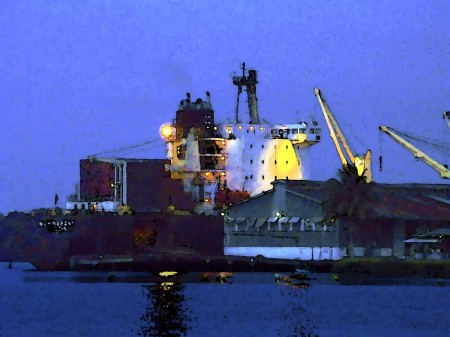 Hmmmm . . . still not very exciting.
Tomorrow's another day.
* I could name the newspaper, but that would be a cheap shot.
** Thanks to reader "werdna" for pointing out that I misspelled the name of the country Colombia as Columbia in my original post. Ironic, eh?

Tags:
ambasador
,
blueblood
,
lilies
,
lily
,
orange lilies
,
ship
,
sunrise
,
teddy taylor
,
wachington dc