Posted in
Mixed Nuts
on November 27th, 2010 by MadDog
There have been bleak seasons this year during which I have been able to find little for which to be thankful. I think that this is the nature of such horrible times. These episodes reduce our capacity to appreciate all of the joys of life and beat us into a numbness which blinds us to our blessings. I am still trudging cold and lonely through that wintry landscape. Nevertheless, I recognise that things could be a lot worse. In fact, If I am honest with myself, I can see that regardless of what is to me a great tragedy in my life I have much for which I should be thankful.
This is going to be a therapy session for me. Stick around if you like.
Time seems to fall naturally for me now into two distinct segments, my life before 2010 and this year. If I had a choice in the matter, I'd delete this year and start it over with a new script. However, that's not my department. I'm but an actor, not a very good one. I tend to want to change the lines.
As for my life before 2010, I have no major complaints. I certainly have some regrets, but they are all of my own creation. Beginning in 1964 my life changed drastically for the better and it only improved with time for forty-six years. The agent of that amazing  change was my wife, Eunice Mae Messersmith, know to us as Eunie. I can't imagine receiving a greater gift if I lived for a thousand years. Life may someday be good again for me, but it will never be the same.
I am in excellent health and I have a strong, fit body. I have all of my teeth and all of my hair. I have a comfortable house to live in and adequate income from my work to sustain me. I can't imagine having friends who are more loving and supportive. They have kept me alive for the last few months. I have family who care for me, though I have long been a black sheep.
Before this year my life was unscathed by disaster, untouched by tragedy. It is as if it was all being saved up for 2010. At least that's the way it seems to me from this seat. Everything goes along so very fine and then WHAM – it's the big one. We all know it's coming, but we're never in the least prepared for it. Having had no previous experience with such utter desolation, I was less prepared than most. A charmed life does not teach one much about submitting to such crushing blows.
Nevertheless, not everything was bad. Some very good things happened. Some blessings were poured out. It's time to count them.
The year began with an event for which I had been wishing for years. Eunie was elected as the Director of Pioneer Bible Translators in Papua New Guinea. Given a thousand words to place here I still could not tell you how much this meant to me. I'll only say that it was something that I had been hoping to happen for my dear wife, something which gave her a tangible reward for her many years of faithful service. This was a blessing.
When Eunie was assigned to go to Fiji as a representative of the Papua New Guinea Chamber of Commerce and Industry I was very happy for her, but I had decided not to go with her because of the expense. I would have to pay for my airline tickets. At the last minute I changed my mind because  I simply did not want to be separated from her for three weeks. I am very glad now that I did decide to go. It was our last holiday together. I'll remember it always. This was a blessing.
The episode of Eunie's illness and death was horrible. I've told it all here in previous posts, so I won't relive the misery now.
Friends came to our aid with comfort and support of all kinds. We had a home away from home. We had the best medical care available. The cancer which took Eunie, though nearly always fatal, does not force the victim to languish in pain without hope. We knew early on that it was a matter of weeks or days. It was astonishingly quick going about its filthy task. There is a time for everything under heaven. There is a time to die. Eunie hated pain and wanted no part of suffering. She experienced very little of either. She didn't have to suffer through chemo and radiation therapy with very little hope. She didn't have to lose her beautiful white hair. Even in this, there was a blessing.
I have now, mostly due to the hard work of my great friend Trevor, sent in the last of the health insurance claims. Because Eunie departed so hastily, I am not destroyed financially, as many survivors are. I have successfully claimed Eunie's modest life insurance benefit and the money is in my bank account. As uncomfortable as I feel in saying so, I must admit that these are blessings.
I have sold Eunie's Spitfire to a cousin in Indiana. It is still in the family. This is a blessing.
I have received a favourable evaluation of my house in Brownsburg and it is now listed for sale. This is a blessing – one which might grow bigger if the sale price is to my benefit and it sells quickly.
I have finally found a suitable grave marker and am negotiating to get it up here from Australia.
I have begun to learn to manage my personal finances and am beginning to take control. I will have more peace of mind and be better able to live frugally and sensibly when I complete this process. This is a blessing.
Though I have undoubtedly neglected to mention many more blessings, that brings me more or less up to date.
My most recent blessing arrived yesterday – Thanksgiving Day 2010. To tell about this I must first visit the past.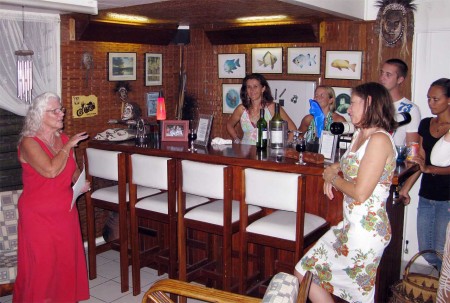 Eunie started one of our Madang Family traditions more than twenty-five years ago. It was her great pleasure to invite as many guests from as many nations as possible to fill our home to its maximum capacity and feed them a delicious traditional American Thanksgiving Day meal. The price of admission to the love feast was to listen to Eunie's lecture about the history of the holiday. Some people have heard that lecture many times. Nobody has ever complained.
When I received an invitation to the home of Chris and Ruth for an American Thanksgiving feast I was happy to hear that someone was celebrating the holiday, but I did not know how I would handle it. I am still very unsure of my emotional reactions. Some things which I reckoned would be very difficult for me have turned out to be less troublesome. Other situations which seemed to be innocuous have sent me reeling. I did not respond to the invitation.
Then Michaela, a friend from one of my favourite cities, Vienna, scolded me one evening when she told me that Eunie would be very angry if I did not go to the celebration. Sometimes it is a very good thing for me to be scolded.
This is Ruth, my lovely hostess for Thanksgiving Day: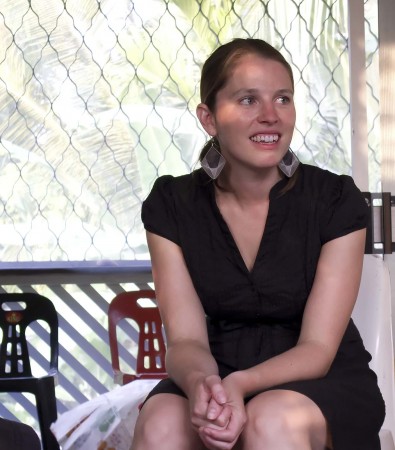 I had it in mind to take many photos yesterday evening. The setting sun dappled Ruth with its light and warmth in this shot. It was the only picture that I took. I was too busy soaking up the love to bother with my camera.
Chris delivered a Thanksgiving Day lecture which would have made Eunie proud of him. Some said that it was virtually word-for-word the same as they had nearly memorised by now from hearing Eunie's speeches. Then Richard Jones spoke of the long Madang tradition of  Eunie's Thanksgiving Day feasts. I was reduced to tears once again – so many tears in 2010. The difference was that these were tears of joy – the first of that kind which I have shed this year.
This was truly a blessing.
Tags:
chris corley
,
ruth corley
,
thanksgiving
,
thanksgiving day