Posted in
Mixed Nuts
on August 4th, 2009 by MadDog
I got up a little late this morning. It was nearly 06:30 when I stumbled out of the bedroom and saw the deep orange glow of sunrise streaming through the eastern windows of our house. I hopped over to have a look and immediately ran back to the bedroom to grab some shorts and my camera. As I was doing so, I noticed that The Rolling Stones had invaded my head again and were hammering out Ruby Tuesday between my ears.
Here was my very own personal sunrise this morning:

As I was recuperating from that visual assault and still humming along with The Stones wailing away in my brain, I caught sight of some water drops hanging from one of my most difficult photographic subjects. I don't know what this plant is. I'm not a botanist, for pity's sake, I'm an IT geek. Anyway, the monochromaticity of these flowers is very aggravating to me. I just can't make them look real. The drops are pretty, though: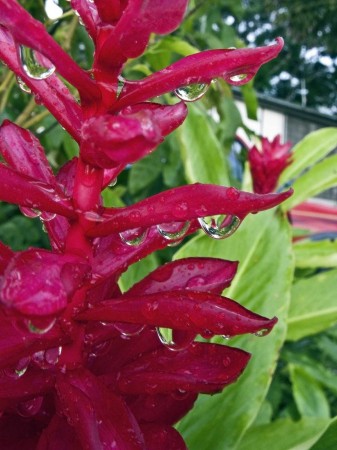 On the way to the office, getting ever so slightly disconcerted by Ruby Tuesday still zinging away in my frontal lobe, I took the long way and was rewarded by this lovely morning sun poking its fingers through a feisty little rain storm. Hmmm . . . all kinds of interesting things happening this morning. I must be walking very close to the edge. I like that because, when I do, I don't miss as much: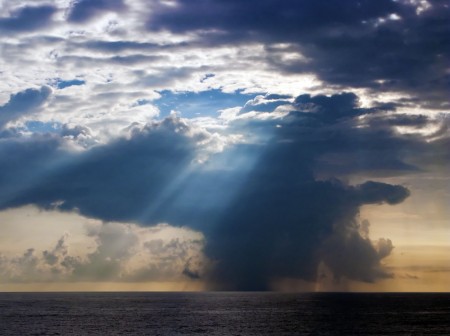 Leaving the sun and the cloud to play, I drove onwards to the shop while The Stones droned on. When I got settled in and began to write it seemed fitting to accompany the strangeness in my head with a little music for my readers. I found this . . .
The honesty and raw beauty of this guy's performance of an already emotion-laden song brought tears to my eyes. The clip is from KenMiddletonUkulele on YouTube. Check it out. There are some very nice bits there. You'll have to pick and choose a little.
Keith Richards wrote the song in 1966 in a Los Angeles hotel room about a groupie that he knew. Other, unofficial sources claim that it was also written to remember a Stones roadie who died of an overdose. My first reaction is, "What a waste." In fact, that's my second and third reaction, also. Nevertheless, aside from the nearly mundane tragedy of it, the song is beautiful and works on several levels.
Anyway, it's Tuesday.
And tomorrow, if it comes, will be Wednesday. And hat's all that I know for sure.
Tags:
ruby tuesday
,
the rolling stones