Posted in
Mixed Nuts
on September 7th, 2009 by MadDog
Today, I have more than enough images to show you of things that caught my eye on my recent visit to Nob Nob Mountain. There's no particular order or theme here, so be prepared for more than the usual randomness.
Here is a rather amazing shot that I got from the communications tower ridge of the main wharf in Madang.  I'm guessing that the straight line distance is in excess of ten kilometres. I got the shot with the Olympus SP-590UZ at full 26x optical zoom. It points out the good and bad points of the cheap, but impressive zoom lens on the Olympus: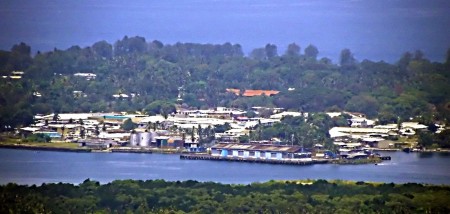 First, I should point out that it was a very hazy day. That hurt the quality of the image before it ever reached the camera. You can see some vignetting around the corners. The shot is slightly cropped, mostly vertically, so there was even more light fall-off at the corners and edges. Next, you'll note that the shot is not very sharp. I did a bit of cleaning of noise and sharpening. The original was more blurry and noisy. I also had to increase the saturation of the colours, but that was mostly because of the haze. Still, despite the problems I think that it's amazing that you can buy a camera for less than US$500 that has a lens equivalent to a 700mm hunk of glass on a 35mm camera. If you're just shooting snapshots, but you always wanted that super-telephoto effect, you can get it for free on any of the new superzoom cameras. They cost no more than any of the top-of-the-line point and shoot cameras (such as the superb Canon G11) and they give you telephoto shots that will blow your socks off. You can see some other examples of the relative quality of the superzoom shots from the Olympus here, here and here.
Showing the random nature of today's post, here is the biggest mass of coconuts that I have ever seen on one tree. I'm sure that it is nowhere near a record, but it did amaze me: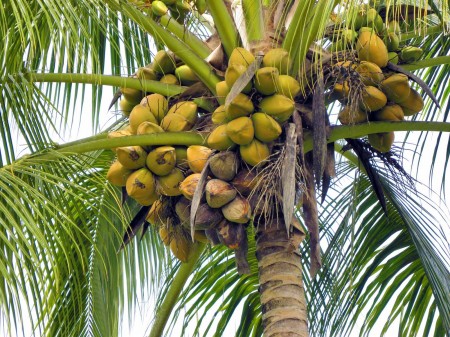 Many times on Madang – Ples Bilong Mi I have told you about the Flying Fox. It is one of my favourite critters, though if I lived under a roosting tree, I might not feel so happy about them. Anyway, here is a papaya tree showing a nice, ripe papaya that nobody is going to want to eat. It's half gone and the rest is covered by Flying Fox slobber: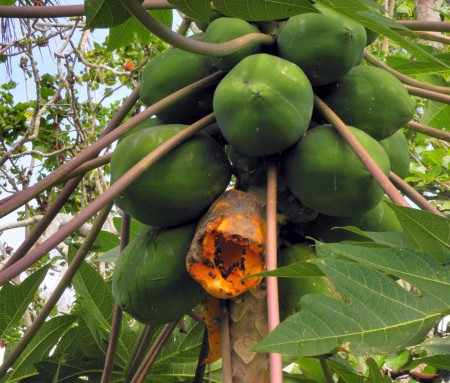 I don't often think of male and female trees. It's something that just doesn't come to mind. So, whenever I see a male papaya tree, I think what probably a lot of women think. Men – they're so much bother. How many do we actually need, anyway? Here's a lonely male papaya tree pitifully hoping that some of its pollen will be wafted on the wind to a receptive female: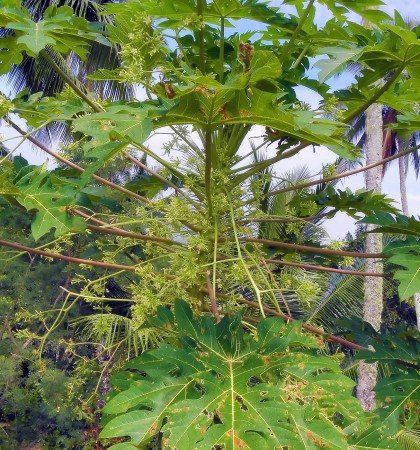 As you can see, he does nothing useful except to produce flowers. Not a bad job, I guess, if you can get it.
Here's another interesting plant. It's the top of a tree fern. Many of you in temperate and cold climates may never have seen one. If you can image a fern as tall as your house with a trunk like a spiny tree, that's a fairly good description: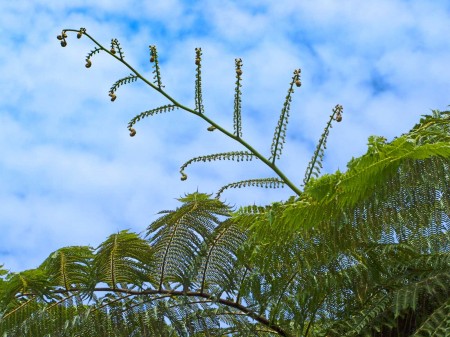 Here is another kind of fern called a staghorn fern. They also grow to be huge. I've seen a few that were nearly the size of a Volkswagen. This Frangianpi tree is an unusual host. It won't be long before the weight of the fern causes the tree to come crashing down.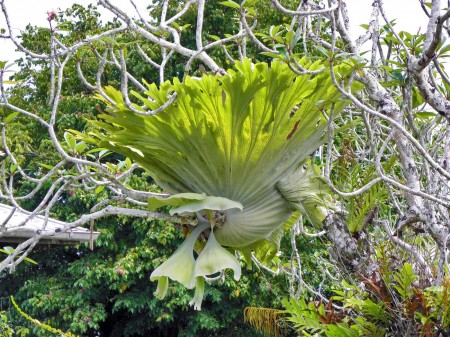 Here is a coconut tree groaning under the weight of a staghorn fern. It will eventually grow so big that it will drag the tree down, destroying its host. There is no noticeable intelligence among staghorn ferns. It has that in common with the human race: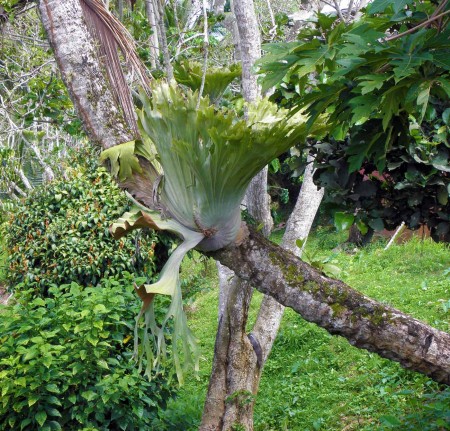 I think that this is a common house plant over much of the world. I don't know what it's called. It reminds me of taro. Whatever it is, it looks as if it has been too near to where the house painters have been working: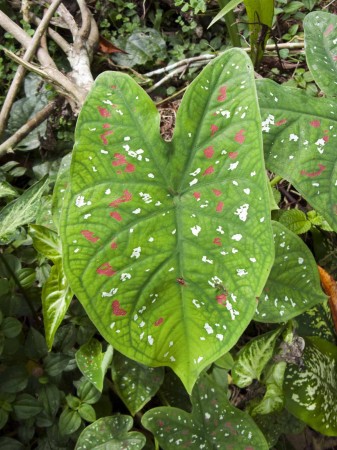 We must have a million colours of hibiscus here. This is one that I particularly like: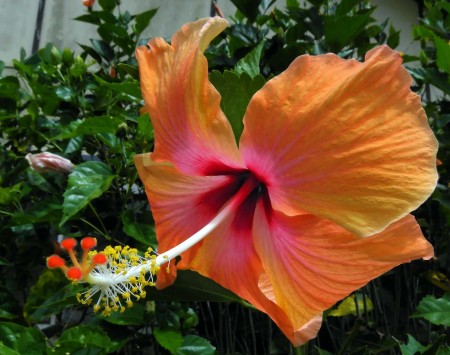 Finally, back to ferns one more time. There is a kind of vine with blue flowers on it that grows all over the trees around Nob Nob Mountain. You saw it a couple of days ago on the Tree Monster. I saw this nice fern frond growing where I could get a shot of the blue flowers on the vine in the background: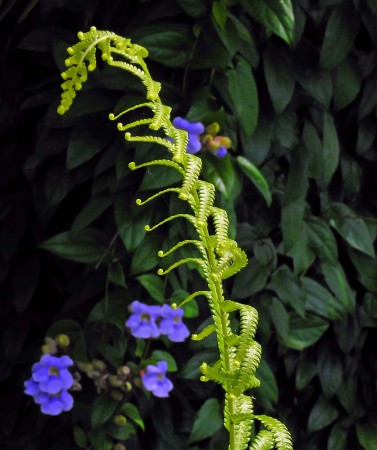 I found it frustrating that I couldn't get an angle on the frond that showed the lacyness of it the way that I wanted. I tried twisting it around, but it wouldn't stay. Afraid of damaging it, I left it be and shot it as it was.
It was a good lesson for me for the day – take life as it comes. There's little that you can change without making things worse.
Tags:
coconut
,
fern
,
flying fox
,
hibiscus
,
nob nob mountain
,
olympus SP-590uz
,
papaya
,
staghorn fern
,
tree fern