Posted in
Guest Shots
on October 21st, 2009 by MadDog
I very much enjoy featuring images sent to me by my friends on Madang – Ples Bilong Mi. Unfortunately, few friends send me samples of their work. I'm pestering a few of them to do so, but shyness seems to interfere. If you are a regular reader of this journal and you have images that you think will be appreciated by our audience, then please feel free to email them to me. Work them over until you are happy with them and send 1600 pixel (longest dimension) JPG images that are between 200 and 300 Kilobytes. Include some text describing the images and I will include that also. I've featured Trevor Hattersley's images before here and here. Heidi Majano has also had a guest appearance.
Don't be shy. Have a try.
We'll start with a couple of shots from Trevor Hattersley. He's been a keen amateur as long as I've known him, probably about twenty years. He recently purchased from me a spare (ordered two by mistake from Amazon) Olympus SP-590UZ superzoom camera and has been diligently learning to use it feature-by-feature. Up at Blueblood a couple of weeks ago he was playing with macro shots and came up with two very nice fungi: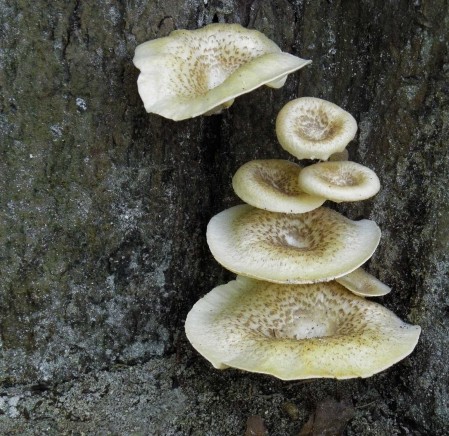 This one of Bracket Fungi has very accurate colours, perfect focus and nice composition. A shot that anyone should be proud to display.
Here's another fungi shot by Trevor: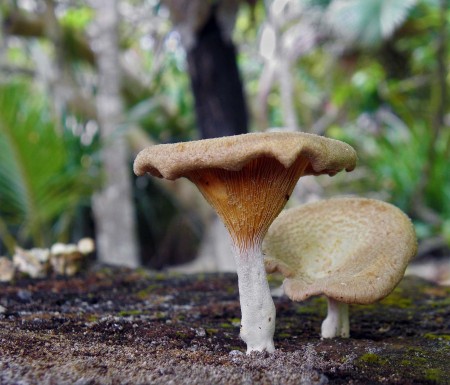 Again, we have interesting and accurate colours, good composition, fine focus (click to enlarge) and a generally interesting and aesthetic image. Well done, mate! I was happy to see that Trevor resisted the urge to use flash on these shots. They are very natural looking – just the way that your eyes see them.
Now let's move to another friend a world away. Ron Barrons hails from Hamilton, Ontario in Canada. He's a very experienced and knowledgeable photographer with a good pair of hiking boots. Since Hamilton is the Waterfall Capital of the World, it's not surprising that Ron has a plethora of beautiful images of water tumbling over rocks. The Niagara Escarpment is responsible for this cornucopia of waterfalls, something for which local photographers are eternally grateful.
Here is a beautiful shot of Grindstone Falls: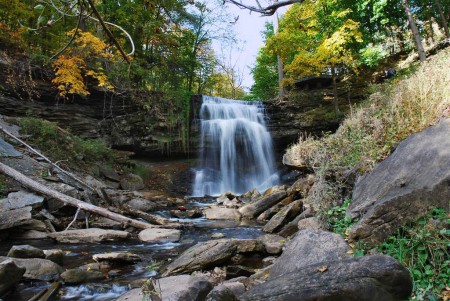 This one is of the cascade below the falls: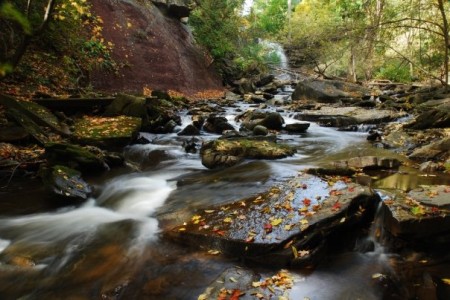 Ron has the "silky water" technique down pat. This requires a tripod, a neutral density filter to cut down the amount of light coming in through the lens, and long exposure times. The result is that the water takes on a very fluid and smooth look which intensifies the appearance of flow. You can see some of my Hamilton Waterfalls and our adventures in waterfall country here, here and here.
Ron is not a one-trick-pony. He sent several gorgeous Canadian Autumn shots taken from the heights around the Niagara Escarpment. This one is a beaut: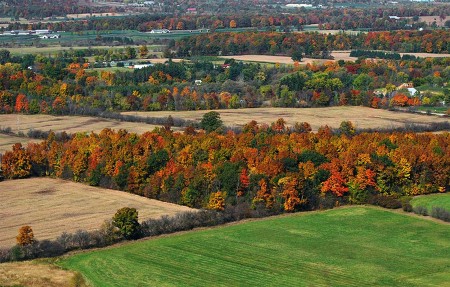 Here is another, looking up at the escarpment itself: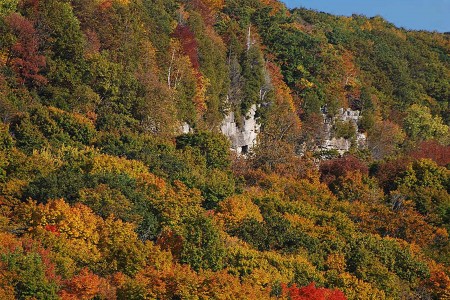 I could not resist the urge to try making a watercolour of one of Ron's beautiful shots. This one is of Rattlesnake Ridge: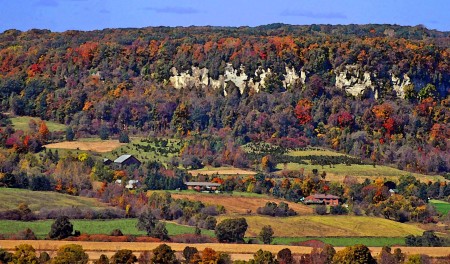 You will need to click to enlarge to see the full watercolour effect. Ron was kind enough to allow me to modify his work and publish it here.
I know that many of my readers must be serious hobby photographers. Please send me images that move you and allow me to showcase your work here.
I'm not fooling around. I mean it.
Tags:
autumn
,
canada
,
fungi
,
grindstone falls
,
guest
,
hamilton ontario
,
mushroom
,
niagara escarpment
,
rattlesnake ridge
,
ron barrons
,
toadstool
,
trevor hattersley
,
waterfall