Posted in
Mixed Nuts
on January 21st, 2012 by MadDog
While in Madang for the last six weeks I finished up thirty years of residency. Though everything went smoothly and I had some happy surprises, there were some very sad moments. I posted here only once while I was gone. I was scrambling to get everything done that I needed to do to make a more or less graceful exit, so it was difficult to think of anything interesting to write about. I also sold my Canon G10 and G11 cameras, so I had nothing with which to make images. I don't seem to be able to write without them, even if they have little to do with the text.
Today's menagerie of images has a peculiar genesis. Last night I gave myself five minutes to scan about three thousand images from Madang – Ples Bilong Mi (yes, a title change is coming soon). My choices have little to do with quality and more to do with knee jerk reactions. Since they are seemingly random choices, the text is likely to be disjointed. In some ways I'm still orienting myself in this new life. Everything is in transition. I'm also still wasted from the trip back to Sedona. I had nearly forty hours in the air from the 13th to the 15th and I don't know how many sitting in a daze in airport lounges. I was amazed when I left Singapore to learn that we were heading for Houston via Moscow! I boarded in Singapore, sat there for eleven hours and thirty minutes, got off the plane in Moscow, went through security again and got back on the same plane in the same seat and rubbed my aching knees for another eleven hours and forty minutes while watching the path of the plan heading for Greenland on the great circle route to Houston.
Here's the route which brought me home to Gracie: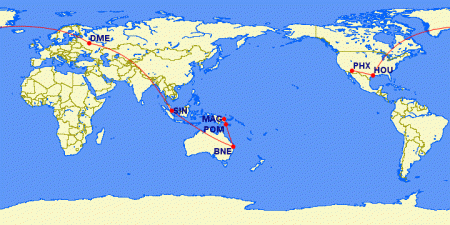 According to Great Circle Mapper that's 17,609 miles. The only break I got was a short overnight stay in Brisbane. My sleep schedule is even more disturbed than normal, even after five nights at home.
I'll start with one of my favorite underwater images, Buddy, an Amphiprion clarkii anemonefish: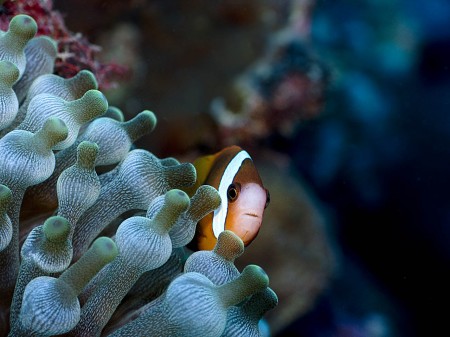 I've gotten a lot of mileage out of this one. It has appeared in several publications and now adorns many web sites, probably many more than I know about.
We'll come back to some more UW images after I digress to illustrate a few of the things I've sadly left behind. Forget about the house. Though I called it home, after the walls were stripped and the mementos were packed it was just a shell. Home was where Eunie was. It might seem harsh to say that what I may miss most is Sheba, my beautiful, smart and affectionate dog: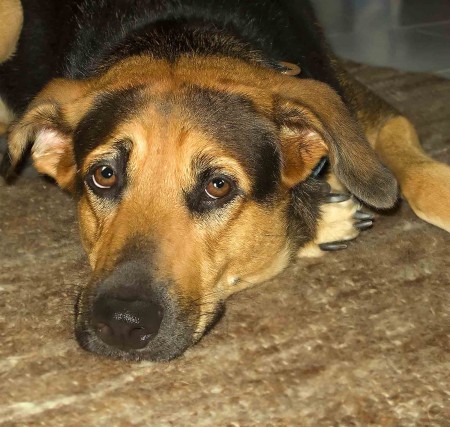 I say I'll miss her most because she doesn't understand why I'm not going to be there to love her. Maybe dogs don't think that much about those things. Possibly it is just our anthropomorphization of them which makes us believe that they mourn for such a loss. I do have confidence that she will be well cared for. It is a blessing that she will not be relocated and the people who will be living in my house want her and will see that she lives a happy life.
In another more lingering way I will miss my friends, represented here by Trevor Hattersley and Tony Collins: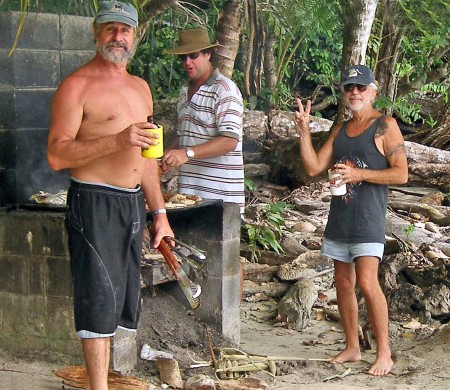 Many people come and go in Madang. It's that kind of place. Tony has already gone. I've now left. Trevor will soon follow suit. Some of the dearest will remain. Some I will see again; some never.
I'm not sure why this image demanded to be included: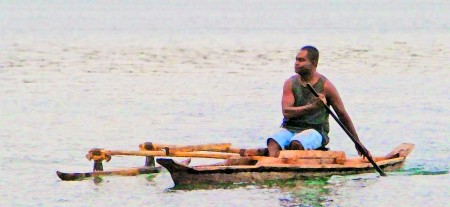 Maybe it's because it is so inclusive of thoughts of Madang, the sea, the people, the exotic nature of the place. It's appropriate that this image departs from photography in the direction of w watercolor painting. It needs to fade from reality into the landscape of dreams.
The sea, the sea . . . How it captured my body and my mind. Here a Blue-Spotted Stingray flees in a panic as I approach: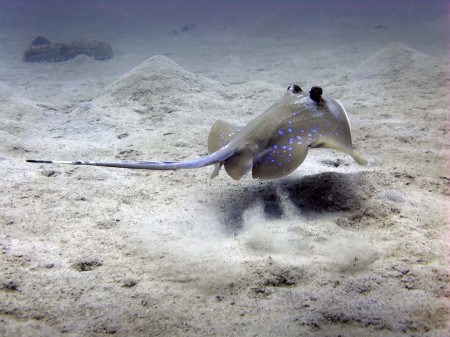 I reckon that I spent roughly 2,500 hours under water during my twenty five years of diving in Madang. Though I was generally a very careful diver I still had several brushes with the Grim Reaper. Except for the occasional sky-dive, I expect that life will be a mite safer here in the high desert.
Living with the ocean at my front doorstep provided constant opportunities for image making: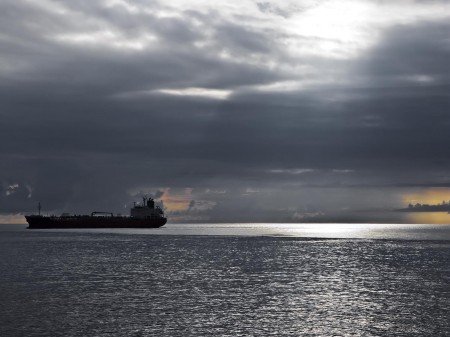 This shot of a ship in the early morning light now graces the cover of a catalog for a German marine equipment supply company.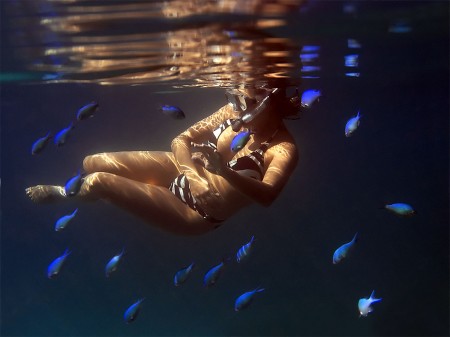 And, in the end, diving was more about friends than anything else. This is one of my very favorites. Karen and her little blue friends.
The world of nature was my playground. I showed a local fellow how to press the button on the camera mounted on a tripod for this shot: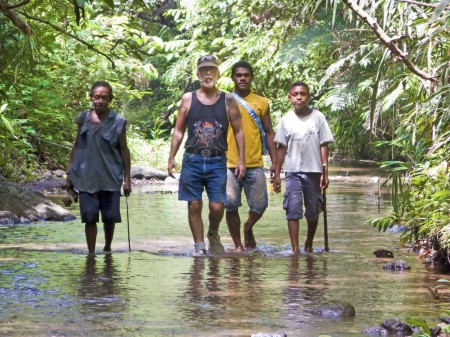 The image appeared in Paradise Magazine, the Airlines PNG in-flight publication as one of the images in Bush Tucker – PNG Style, an article about edibles which can be found in the rainforest. I lost both nails from my big toes within a few days after completing this trek. The "Land of Surprises" they call it. I was certainly surprised.
On any given day, in my garden, I could find gifts of beauty to photograph: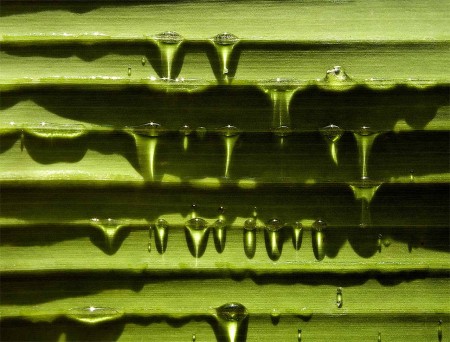 Here the evening rain drips from the underside of a banana leaf. I had about twenty banana trees in my garden. They remain the best tasting bananas I have ever eaten.
My life was blessed with travel around the world, thirteen times at my latest count. Here is the wonderful "Tunnel of Light" at Chicago's O'Hare airport: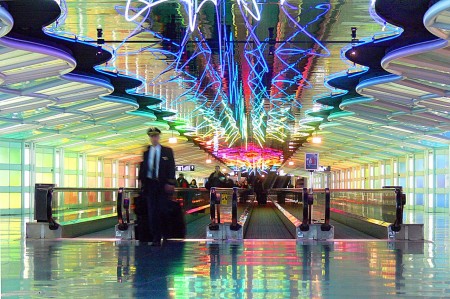 And I will never forget the severe vertigo I felt as I mounted the top of this astoundingly long escalator in Budapest: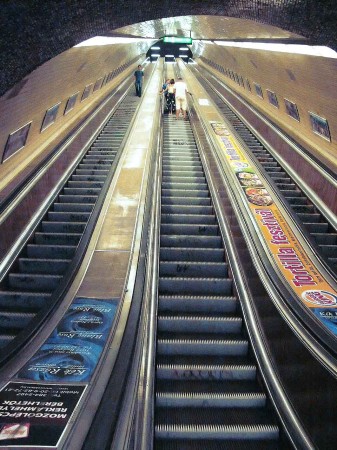 I know there are longer ones, but I don't want to ride them.
Domestic travels were less wearisome. Here I enjoy a ride on Honey near Boise, Idaho, captured in this image by my friend Carol Beth: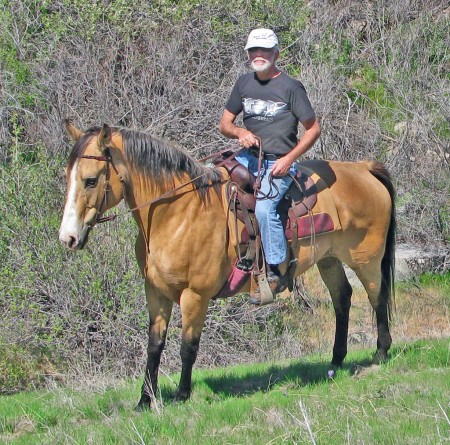 Honey was the same age as I, in horse years. We got along well. We were polite with each other. I seem to have a natural ability with horses and dogs. Maybe it's because I'm sympathetic to their lowly place in life. It must take a lot of humility to be a good riding horse or a fine, well mannered dog. Humility is a good thing. It can take you places where pride is met by a burly bouncer.
Peculiar, unique images always catch my eye and I strive to create them. This is one that I really enjoy, partly because of the experience which led to its creation: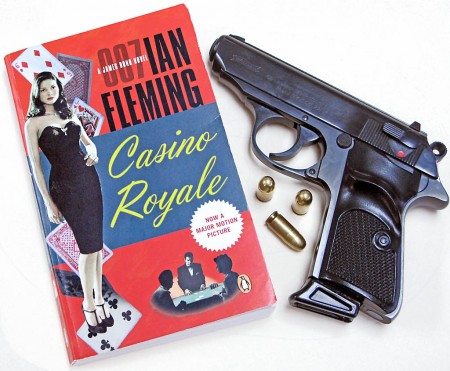 Special permission was required from the scary, suspicious guys in the gun shop to enter with a camera. I'm sure I was one of the stranger characters to visit that day. They didn't know what to make of me as I set up my shot on a large piece of white paper on the counter top. It was a bit of an adventure for all of us.
I'll wrap this up with what is, sadly, probably the only image I have of Eunie and Grace together: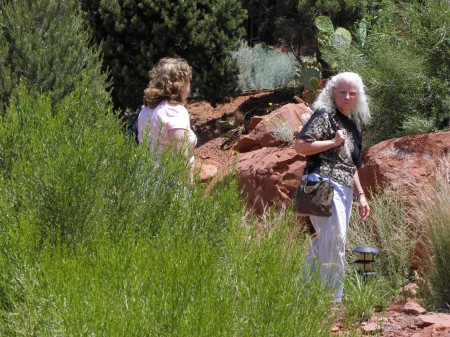 I shot this during the only visit to Sedona which Eunie and I enjoyed together. How little I could imagine how much my life was to change in the course of a very few years.
This post will serve as a sort of whimpy farewell to Madang. I don't want to dwell on it. It is but a passage in life – one of many.
Tags:
anemonefish
,
karen
,
sedona
,
stingray
,
tony
,
trevor