Posted in
Mixed Nuts
,
Photography Tricks
on October 24th, 2008 by MadDog
I'm going to do a couple of back-to-back posts to show you some images that I captured in Melbourne in 2007. There is much in that fair city that appeals to my sense of whimsy. Melbourne, to me, seems simultaneously refined and edgy. That's a scrumptious recipe.
Speaking of yummy stuff, I call this one Vegan Nightmare: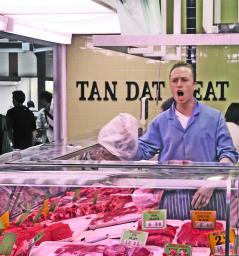 The meat is oversaturated (pardon the pun). Vegetarianism, for which Veganism marks the ragged edge, amuses me. Not because I think that it's silly or overblown. I don't. Well, maybe a little overblown. Hey, we're omnivores, for pity's sake.
I wanted to keep the natural market-place colours at the top of the frame, while emphasizing the goriness of the carnage below. I have a couple of Vegan friends who are going to feel slightly nauseous when they see this shot.
And then there's the meatmonger. He put on quite a show. I think that he's probably a local attraction. He was vociferously informing all the world of the quality of Tan Dat Meat.
Okay, pardon the nudity. I know that I have a couple of sensitive readers, but hey, its art, right?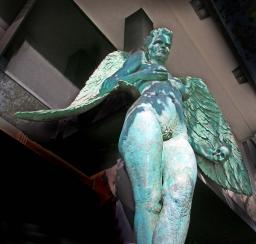 Probably the only thing interesting about this image – aside from which it is probably famous, but I don't remember any of that – is how I did it. Eunie and Val were pretending they didn't know me while furtively looking about for cops or concerned citizens (Oh, people are very concerned in Melbourne – mostly about having a good time.) I lay on my back on the sidewalk and fiddled with my camera until I was satisfied. There were grim looks from both of them when I stood and brushed off my pants. I particularly like the skull imbedded in the wing.
This one puts me in mind of the beautiful bronzes in front of the Honolulu Hilton.
The last one sneaks clumsily into the arena of Art as Social Commentary. If you please, click it to enlarge: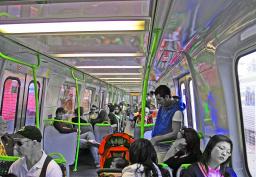 I nearly deleted this frame when I first examined it lightly. I hesitated, and then began to listen to it.
The two people in the foreground are looking away from each other. This creates a sort of anti-symmetry that sets up the story line. Trapped in the long angular space, depersonalized by the indignity of being herded, their spirits diminish. They become the Ghost Riders.
It was easy to find the primary colours in the image and accentuate them. It was easier still to select the flesh and dilute the saturation all the way down to monochrome.
To me, the image speaks of the down-sides of modern city life. However, I say with a wistful grin, that Melbourne is pretty much the last place about which I would complain. Nevertheless, it is a big city with all the comforts – and mindless distractions.
I'm happy to live in a place where life feels more visceral.
Tags:
bronze statue
,
ghost riders
,
meat
,
melbourne
,
vegan
,
vegan nightmare
,
vegetarian