Posted in
On Tthe Road
on June 30th, 2011 by MadDog
I'm surprised that I have posted only four times this month. The change of environment has affected me strongly. Grace is supposed to be "retired", but it seems a very busy house to me. That makes me happy, because I'm finding ways to feel useful instead of being a passive couch surfer. Yesterday and today I struggled to keep my cool while applying reflective window film to several large panes of glass. I can't think of too many do-it-yourself projects which are more potentially frustrating. The results are spectacular in terms of energy savings, but the task of putting the cantankerous stuff on the windows could test the patience of Job. I'm going to revive my furniture refinishing project tomorrow. It's been stalled for a few days. After stripping the old finish from a table I discovered that several different colors of wood were patched together and covered by a dark finish. Now I have to figure out how to make it all match. Grrrr . . .
To calm me down we sometimes stroll through the neighborhood. Grace lives in The Village of Oak Creek. I don't know what to call it. It seems to orbit lazily around some spectacular golf courses which are are regularly trampled by the rich and famous. The Ace Hardware store has a huge picture of Jackie Gleason strutting across a green. I'm going to have to find out what that's all about. Here's a Google Earth view of VOC (as you may have guessed, the Village of Oak Creek):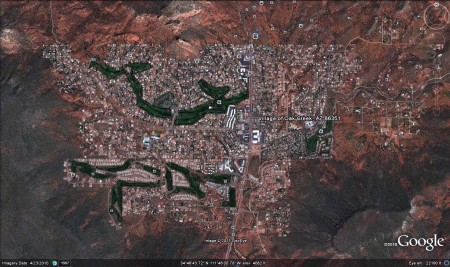 You can't walk around VOC without being impressed. It's simply impossible to ignore the scenery. We waked down to the dry wash at the end of Catclaw Lane, where Grace lives, and I turned around. I nearly fell over. This is not your ordinary neighborhood street: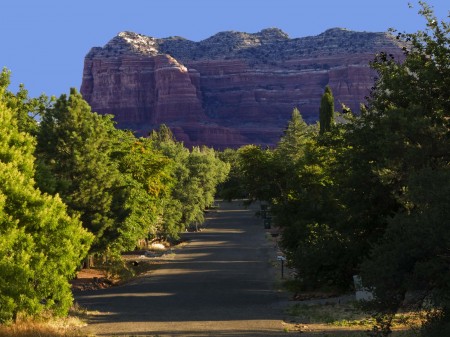 The dry wash itself is not boring. The famous Red Rock is everywhere. Grace says that the water gets deep enough here to be a danger. There are many small gullies around the town which sport warning signs shouting, "Do not attempt to cross when flooded." In fact, the local police will fine you if they catch you trying it. Several cars are wrecked every year when drivers try to cross and are caught up in raging currents: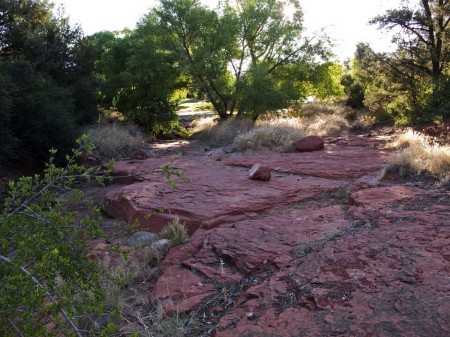 I'd be the first to admit that I'm taken aback by the contrast between Madang, a tropical paradise (well, sort of), and the apparent barrenness of the Arizona landscape. Frankly, I feel I'm surrounded by desert. However, my curious nature kicks in daily and I find interesting things to photograph. Have you ever seen a tumbleweed plant? Well, now you have: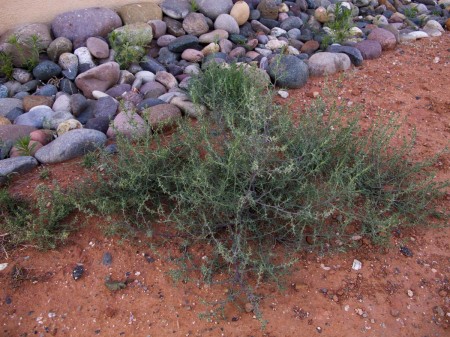 Admittedly, they are not much to look at. The main interest to me falls into the category of western lore. Roy Rogers was my childhood hero. I wanted to be a cowboy. I'm still trying. Anyway, I have intense memories of The Sons of the Pioneers. They were featured in many of Roy Rogers movies. You can look here for a YouTube clip of the group singing Tumbling Tumbleweeds. Here are some tumbleweeds which have fallen into a dry wash and are taking a little rest: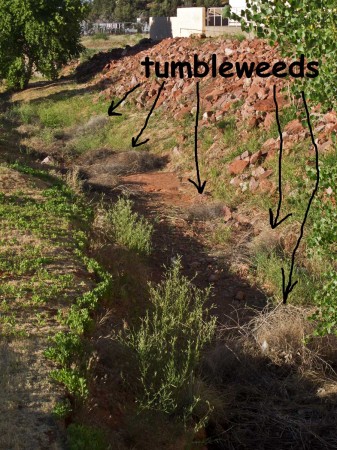 Being observant pays off when fauna and flora are scarce. This is one of the more amusing of VOC's cacti: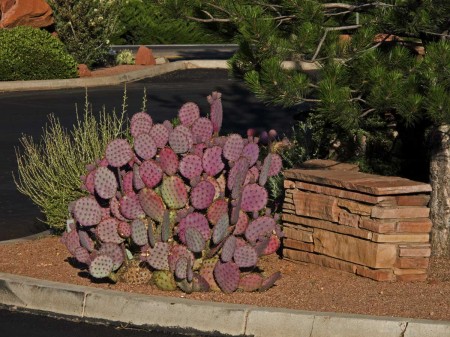 I had no idea that prickly pears came in such unlikely shades.
I occasionally have to get down on my knees. While praying at the side of the road (okay, okay, I wasn't praying) I spied these industrious ants milking their herd of aphids: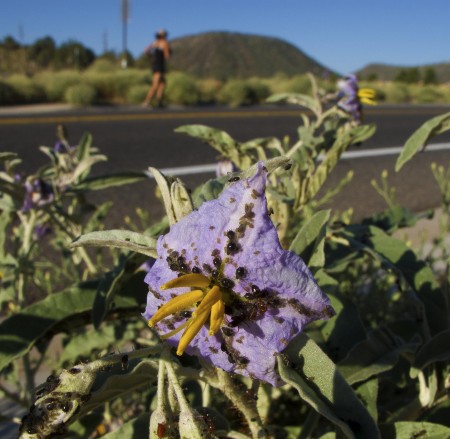 Catching the sweaty runner in the background was a bonus.
It is incredibly hot here. Being at 4700 feet certainly helps. It's much hotter nearer sea level. The temperature forecast for the next week does not dip below 100°F (38°C). It is, as the saying goes, "a dry heat". There is some truth to that. Although the wind feels as if it came from a blast furnace (and it is surprisingly windy here) the air is so dry that I don't feel uncomfortable, even though the temperature is considerably higher than it is in Madang.
What I do notice is my huffing and puffing when I excercise. The altitude is high enough for me to notice a difference.
I need to get more exercise!
Tags:
ants
,
aphids
,
cactus
,
dry wash
,
opuntia violacea
,
prickly pear
,
red rock
,
sedona
,
village of oak creek