Posted in
At Sea
,
Madang Happenings
,
Mixed Nuts
,
Under the Sea
on April 25th, 2010 by MadDog
It's no trick at all to figure out when I'm completely stuck for a title for a post. It makes even less sense than usual. Though I am going to tease you today concerning some amusing posts which I will have coming up in the next week, don't get your hopes up too much. No, the war in the Big A is not over, nor are any others that I know of. Aliens have not landed to my knowledge, but I'm still hoping. The only interesting news is that we absolutely must buy a new car. Eunie has now "mentioned" for some time how nice it would be if we had a car from which the fenders were not falling off and I'm becoming more and more inclined to agree with her. On an insane whim we stopped off at Coastal Automotive to see, perchance to dream, if there was anything remotely within our price range. Well, there was a red Nissan Twin Cab ute there which is like the younger sister of the one we drive at present. Since Eunie will resolutely not drive anything but a red car, my fate was sealed.
I reckon that if we sell all of our PNG stocks, get a good price for the rust bucket and I can remember where I buried the cash in the back yard, we'll be only about K10,000 short. We decided two years ago that we would never again borrow money for anything. Eunie won't let me sell the Harley, bless her heart. So, we'll fall on the mercy of our corporate account for a couple of months and pray for a miracle. All that just to work up to this sunrise, which is a lulu:

No, we're not to the teasing yet, though I will have some very nice underwater shots over the next few days.
This image is in support of my philosophical sermon for today which  is titled, No Matter How Bad Something Is, If You Can Practice Utter Denial, You Can Probably Make It Better. This is the same advice which I give when poor desperate wretches come to me for marriage counselling. This proably explains why my success rate is so patheically low. When I snapped this image as a Vlaming's Unicornfish (Naso vlamingii) darted past me, I thought that it was a complete waste of valuable pixels: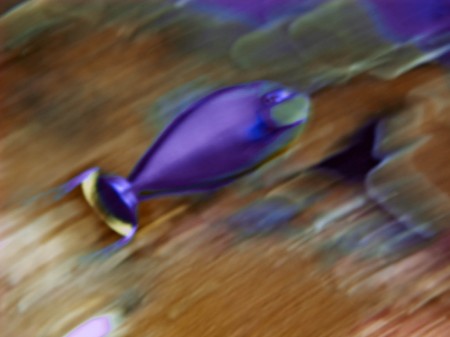 However, when I saw the image on the screen, all washed out and motion-blurred, something snapped in my mind, an all too often occurrence, and I denied utterly the possibility that the image had no merit whatsoever. So, kiddies, what do we do when this happens?  (All together now . . .) We make ART! In a mere five minutes I created something. What it is, I cannot say. However it is distinctly more than it started out. I appears vaguely as if it is a rocket-propelled fish. Hurrah! NASA, eat your heart out!
Since we're in fail mode, I'll underwhelm you with this excruciatingly ordinary, plain Jane starfish. Honestly, if I were a starfish so devoid of charm as this one, I'd simply hide under a rock and await the Rapture: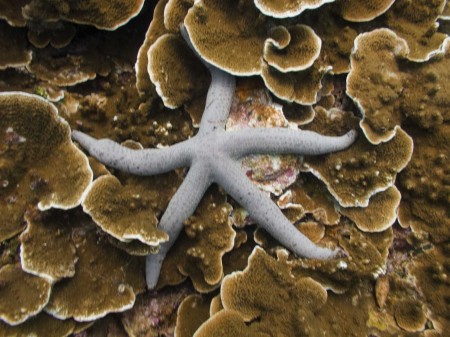 Hmmm . . . that's more or less what I'm doing now. Oh, well.
Still no major tease, so don't get confused. I didn't have time the other day to work on these two panoramas which I shot on Orion. This is, as you might well imagine, is The Library: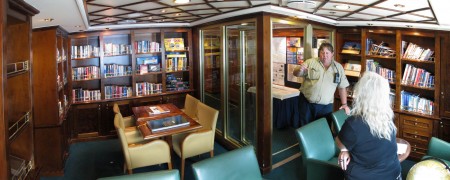 There's Justin Friend lecturing my gorgeous, platinum blonde wife, Eunie.
And, this is one third of the stunning spiral staircase wrapped around the elevator in the central "Light Well" of the ship:

Pretty flash, eh?
Okay, now I'll deliver The Big Tease. Don't get too excited, because if you're not an Australian, New Zealander or Papua New Guinean, you may not begin to quiver with anticipation. Sunday morning was ANZAC Day. I'll trouble you to look it up if you don't know what it means. Let me just tell you, however, that here it is a big deal indeed: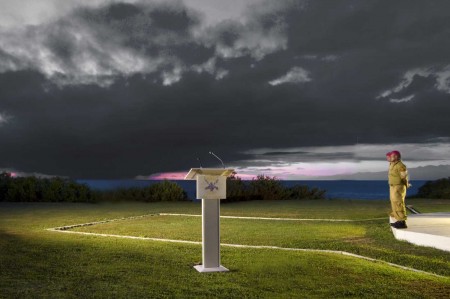 I could never be mistaken for a war enthusiast. To me it seems to be the stupidest thing that humans have ever dreamed up. Nobody has yet explained to me why we have to keep doing it. However, in this part of the world, as in others, naked aggression made war unavoidable. It was about defending against the rape and murder of entire cultures.
People here are rightly proud of the part that they played in defending themselves against seemingly overwhelming odds. Eunie and I felt privileged to be invited to participate. I'll probably do a two-part post on the ANZAC Day memorial and following festivities during the next week.
Tags:
anzac day
,
naso vlamingii
,
orion
,
starfish
,
sunrise
,
vlaming's unicornfish