Posted in
Humor
,
Mixed Nuts
on May 16th, 2009 by MadDog
Remember the old Geoff Mack song, I've Been Everywhere ? It has been performed by Lucky Starr, Hank Snow, Johnny Cash, Willie Nelson and countless others. Well, I haven't been everywhere – yet. But, I do have a story for you.
I've been everywhere, man.
I've been everywhere, man.
Crossed the desert's bare, man.
I've breathed the mountain air, man.
Of travel I've had my share, man.
I've been everywhere.
"Why on earth would anybody be interested in my old boots?", I'm asking myself as I write this. (Some would say that they're not even boots. I'll call them what I like.) Well, that's one of the cool things about keeping an online journal.* I get to write about whatever I like and you get to decide if you want to read it or not. It's a win-win situation.
Anyway, here's a shot of my old Timberland boots: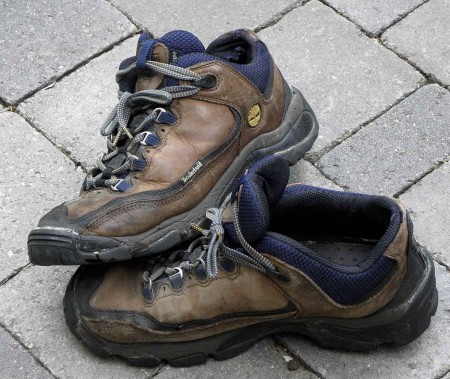 My memory (Eunie) tells me that I bought them about thirteen years ago. By my reckoning they have circled the globe at least five times. That's roughly 200,000 kilometres, not that I walked it. I always wear them when I'm travelling.  The hardest thing they ever did was carry my sorry old bones from Vienna, down one side of Italy, around Sicily, and back up the other side of Italy back to Vienna. I felt as if I had walked most of that, but it isn't so. The most fun thing that they ever did was jump out of an airplane. I should mention that I was wearing them at the time.
They have worked hard, never hurt my feet, and always gave me that "rugged old man" look so sought after by guys of a certain age and demeanour. They've been patient in their old age and taken all of the glue that they could manage, but now it's time to retire them to the MadDog Museum of Mildly Amusing Curiosities in an honoured position on the top shelf. Any pair of boots that has given such sedlfless service for so long deserves to be admired, not tossed in the dustbin.
Eunie and I searched dilligently for a new pair of Timberlands, sadly in vain. Today I bought a new pair of Merrell boots for a hundred bucks Canadian. Here they are: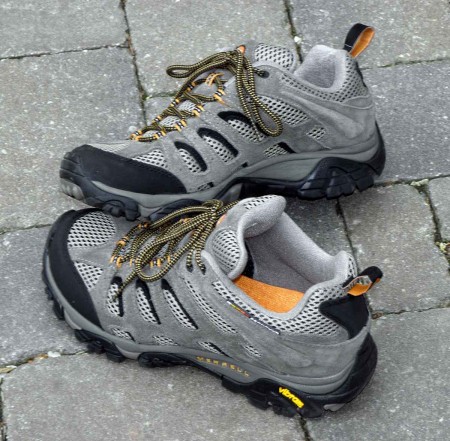 They are lighter than the old Timberlands, but that's probably because the materials and technology have changed. I caused mild consternation in the shoe store when I put them on and began running around, hopping up and down, squatting (you must be able to squat comfortably in your hiking boots for a very obvious reason), and generally bouncing off the walls. I've got to say that I've never had boots that were more comfortable from the first moment that I put them on.
So, that's the end of the story, or, as we say in Papua New Guinea – Em tasol.
*  I hate the word "blog." It's ugly and it's not what I'm doing.
Tags:
boots
,
geoff mack
,
hank snow
,
i've been everywhere
,
johnny cash
,
merrell boots
,
timberland boots
,
willie nelson