Posted in
Under the Sea
on January 17th, 2010 by MadDog
We ended up a week of diving, bush trips and industrial-strength socializing with Anita, Wouter and Anita's father, Jos, today. It's been a pleasure having them with us. Yesterday I realized that I had no photos of Jos. So, I took this shot of him steering Faded Glory: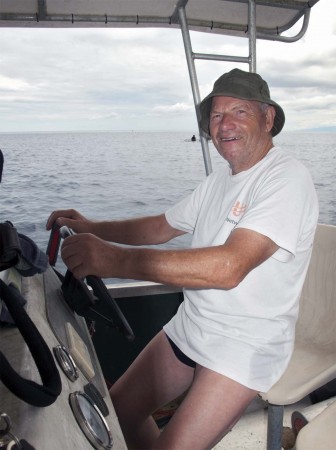 Jos turned out to be very handy with a boat. On our last day, he handled the boat while the rest of us did a drift dive at Magic Passage. Communications were a little light, as we do not speak each others' languages, but he is a very pleasant fellow. I wish that we could have had some heart-to-heart conversations.
Here is a shot of Anita and Swami Monty in the water at Magic Passage with Faded Glory, Jos at the wheel, coming up in the distance: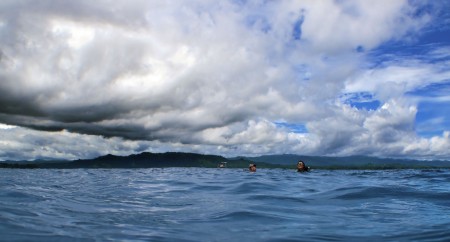 Anita, Jos and Wouter are leaving tomorrow morning. Wouter is an avid diver and runs with a crowd of dedicated techno-human-dolphins in the North Sea. I wouldn't be surprised if we begin to get applications for diving here in Madang. It's an entirely different experience from their normal dives. I think that Wouter found it a pleasant break from the adrenaline-drenched sport as it is enjoyed off the coast of Belgium.
Among the critters that we saw on our last two dives at Magic Passage and Rasch Passage was this Starfish (Nardoa rosea) practicing Extreme Yoga: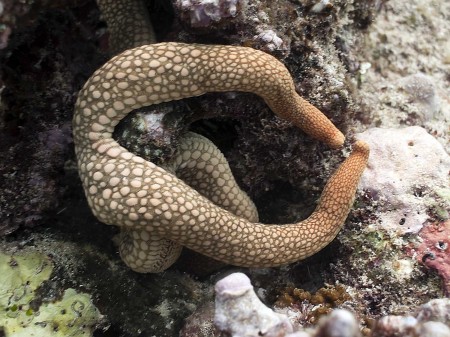 I am able to contort my body like this, having practiced yoga since I was a pre-teen. Okay, okay, I'm not as nimble and Gumby-like as I once was. However, I've not yet reached the point, at sixty-six, at which I need to ask myself, "Can I still do that?" This is a great blessing for me, as the physical activities (yeah, all of them) are important keys to my well-being. I owe much of this to my Dad, an accomplished athlete, acrobat and dancer who taught me the principles of physical fitness as a life-goal and the concept of the body-aware spirit.
We may as well have a look at another starfish. This one, I think, is a Fromia nodosa with its little toes curled up very cutely: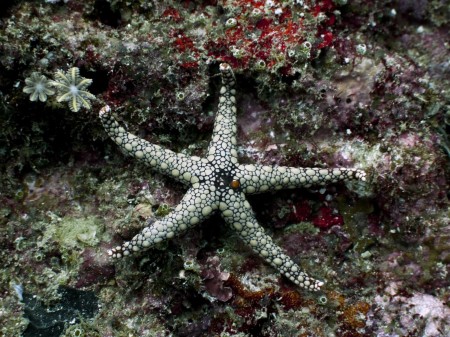 You can't swing a dead cat here without smashing a starfish. We have many different species and I have neglected them severely. I'm certain that their tiny little feelings are hurt. I'll fix that in the future.
I got a bit of a "wow" experience from this huge mob of Reticulated Dascyllus (Dascyllus reticulatus):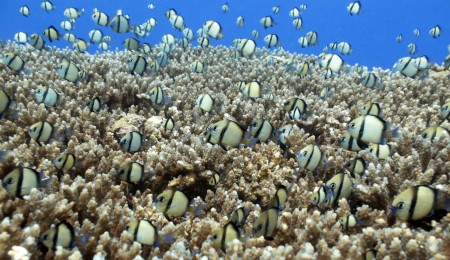 We would normally see a dozen or two in a plate coral. This was a huge plate and was home to a couple of hundreds of these lovely little purple-lipped fish. I love to play "scare the fish" with the Dascyllus. If you slowly stretch your arm out over the plate with your hand closed in a fist and then quickly open your hand the entire gaggle will dive simultaneously into the coral and disappear. It's like magic. Now they're here – now they're not. If you look closely, you can see them trembling in their little nooks and crannies where they hide from predators.
Barrel Sponges fascinate me. Some of them are huge. This Xestospongia testudinaria is about two metres from bottom to top. Some are much larger: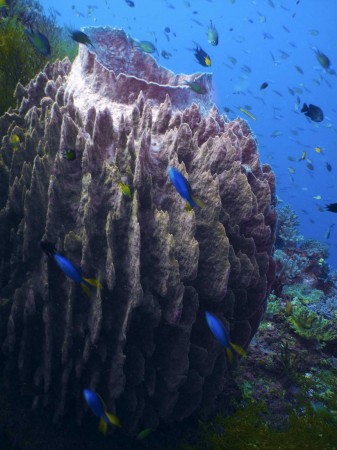 You can see a few Purple Anthea
(Psudanthias tuka)
swimming in front of the sponge. The "purple" in the common name is a relative term. As with many fish, the colour that you see underwater is radically dependent on the depth, the colour of the sky and the condition and tint of the water. Sometimes
P. tuka
appears purple and sometimes blue. The yellow dorsal fin edging and caudal fin are constant. The fish appear a bit motion blurred, because I was forced to a slow shutter speed by the low light level.
I am exceedingly happy, nay, overjoyed by this image: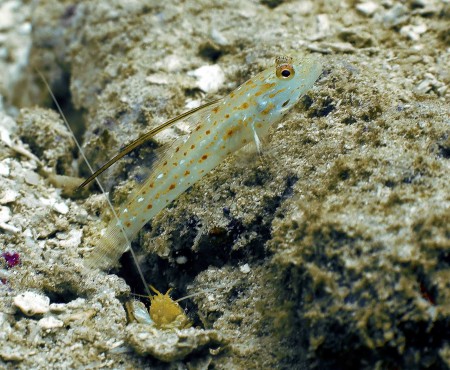 As you may gather, I'm easily aroused from my usual "so what" attitude. When I saw this fish, I became terribly excited. That will give you an idea of what a fish geek that I am. The reason for my shaking hands and fumbling fingers is that I have never seen this fish before; it was my first sighting. It is a species of Shrimpgoby (Ctenogobiops tangaroi). There are several fortuitous aspects of this shot, aside from the novelty factor. First, there is the brevity of the sighting. I barely had time to raise my camera, hold my breath for a few seconds and fire off a shot before it disappeared down its hidey-hole.
Another lucky aspect of this image is that I caught the fish's partner, a commensal shrimp (Alpheus ochrostriatus) bulldozing a load of sand out of the shared shelter.
I'm not looking a gift fish in the mouth.
Tags:
anita
,
anthea
,
barrel sponge
,
ctenogobiops tangaroi
,
Dascyllus reticulatus
,
fromia nodosa
,
jos
,
magic passage
,
nardoa rosea
,
pseudanthias tuka
,
purple anthea
,
rasch passage
,
Reticulated dascyllus
,
shrimp
,
shrimpgoby
,
starfish
,
wouter
,
Xestospongia testudinaria