Posted in
Mixed Nuts
on January 18th, 2011 by MadDog
It was a grey day up at Blueblood a couple of weeks ago when a bit of silliness crept back into my life, welcomed as a dear old friend who has been absent too long. Sunday afternoon at the beach has long been a cherished feature of my week. Being with friends who have their own serious concerns and  difficulties to deal with throughout the week and, as I do, wish to let these matters fall away for a few hours is a mutual exercise in caring for one another. It's a place of consolation, a place of healing and comfort. And, it is usually a place of unrestrained silliness. Serious issues are set aside. We breathe deeply of the thick tropical air and live in the moment.
A long rope dangling somewhat uncertainly from an overhanging coconut tree is a recent addition to the constantly changing playground. It was probably put in place by the village children. It did not take the more athletic of us to take advantage of it. Here is an early attempt by Rich Jones to emulate Tarzan: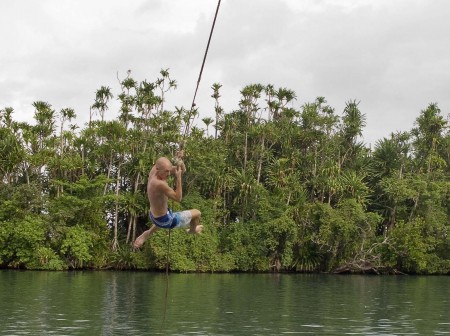 This was the best part of that swing. The end was anticlimactic.
Will had a go which was similarly unspectacular: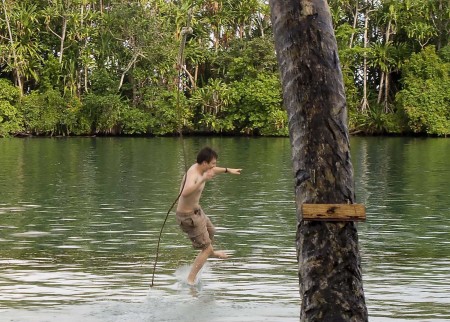 Swinging on the rope is no particular challenge. The difficulty is in climbing the slanted coconut tree to get high enough to clear the water. The wooden step you see in this shot is about five metres up the side of the tree. Walking up the tree while hanging onto the rope is no small feat.
Here is one of Rich's more interesting landings: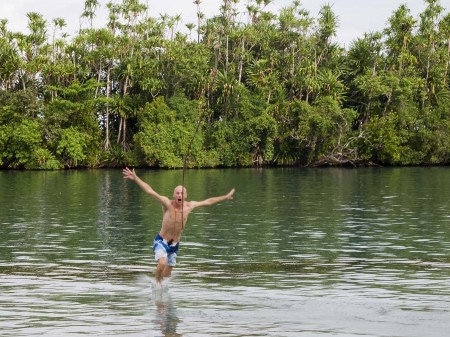 I was not even tempted to try it.
Visitors Emily and Alice were going for the Free-Style Extreme Yoga record: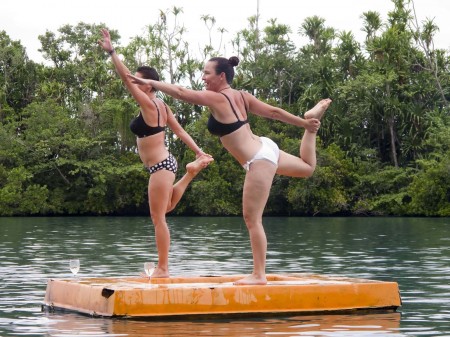 This pose is difficult enough standing on firm ground. I can't imagine trying it standing on a wobbly float.
The results of these attempts were invariably comical: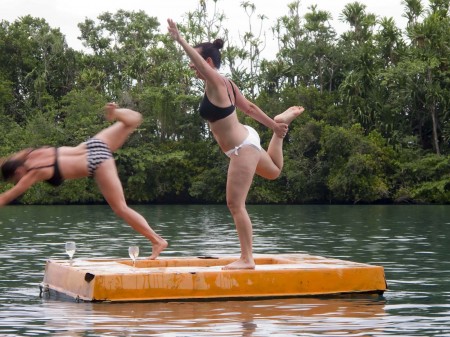 This is the second time at MPBM that I have shown a picture of me standing on my head: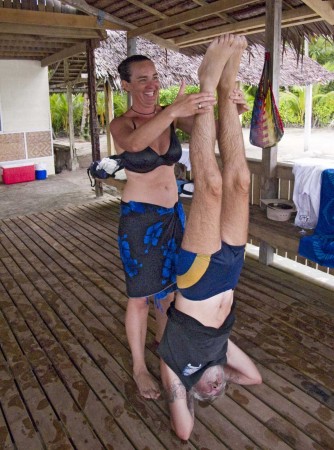 I think twice is enough.
The headstone for Eunie's grave has been shipped from Australia. It should be here in a couple of weeks. As soon as I know that all arrangements are made and it appears that I will be able to fulfil my promise to her I will purchase my tickets for my trip to Australia, the USA and Canada. I'm trying to pump up my enthusiasm for the sojourn.
Anything could happen.
Tags:
blueblood
,
karate
,
tarzan
,
yoga